Gas Gas commits to Extreme Enduro and the Superenduro
Dani Gibert, Melcior Faja and Dani Oliveras will be the three official riders of the brand that will consolidate for the most extreme races.
Gas Gas will also provide assistance to customers in the Erzberg Rodeo, the Red Bull Sea to Sky and Red Bull Romaniacs.
The 2014 enduro season is about to start and Gas Gas Motos announces that a team for enduro extreme with a formal structure that will defend the colors of the Spanish brand. Dani Gibert, Melcior Faja and Dani Oliveras, three young Catalan talents, who will participate in the tests of the Erzberg Rodeo, the Red Bull Sea to Sky and Red Bull Romaniacs, among others. In addition, they will participate in the remaining three events of the Superenduro championship.
Thus, Gas Gas will be represented in a booming new specialty, in addition to its presence in the Trial and enduro World Championships, and the Dakar Rally.As in other disciplines, the Girona brand continues to promote these national riders who join Raga, Casales, Mena, Farrés and are the base of their offroad sports.
Gibert, Faja and Oliveras will not race again until February 9th ??at the GP deEspaña held at the Palau Sant Jordi in Barcelona, where this trio of young talent will debut. So far, the trialero, Dani Oliveras, has just finished the 2014 Dakar Rally, in which he finished in an excellent 36th position in his DAKAR debut and in a particularly hard race, held in Argentina, Bolivia and Chile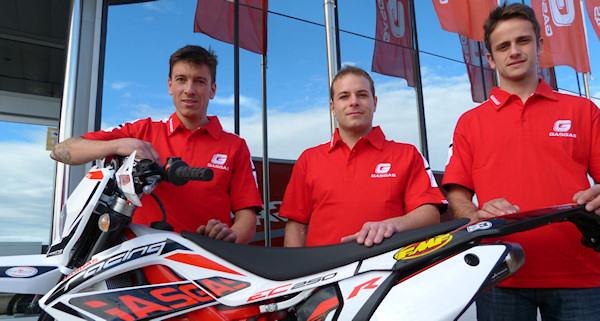 The EC 300 Racing is for the hardest races
What these three riders have in common and with Gas Gas is that they started with the world of trial and now ride the Gas Gas EC 300 Racing, the two stroke is ideal for the most extreme enduro. Precisely is Dani Gibert who premiered last week, in this case, the Superenduro in Brazil, and ended with a sixth place after recovering from an injury in the final of the premier class. The Catalan rider has become one of the revelations of the series and this weekend will contest the GP of Mexico.
Assistance and enduro tours
As a part of the official structure, Gas Gas offers rental services of motorcycles and mechanical assistance to all amateur riders who want to ride in the principal extreme races of the international circuit. An initiative under the "Gas Gas Riding Experience" and in Romania, will be organized with the enduro tour, having every possible amenity available to the customer of this program.
Return to the previous page