A complicated weekend for the team Gas Gas riders in the third round of the enduro World Championship, the Portugal GP. 
A hard crash ruins a great early season for Jonathan Barragán in the world championship. The rider from Madrid suffered a muscle injury that forced him to leave the GP of Portugal. Antoine Basset finished with a seventh and ninth in the premier class. While Jonathan Manzi finishes in E1 with a sixth and seventh, after fighting for the 'top five' category. Ventura achieved a seventh and fifth in Junior, in front of his fans in the home Grand Prix for the young Portuguese rider.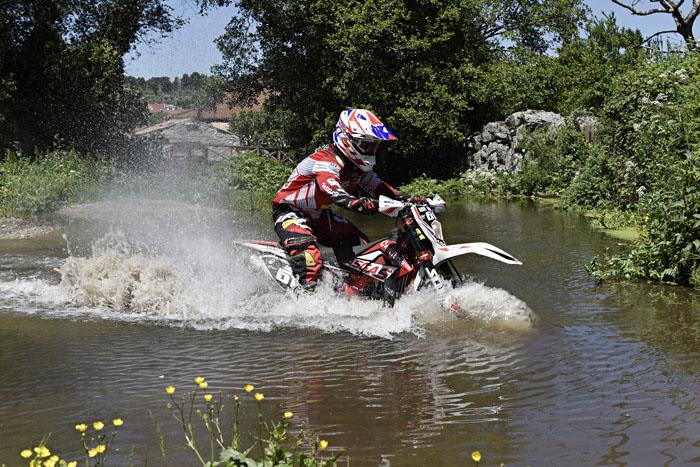 A complicated weekend for the Gas Gas riders in the very hot GP of Portugal. Only five days after the Enduro GP of Spain held in Jerez de la Frontera, the Gas Gas team riders moved to Gouveia, Portugal, to dispute the third round of the World Championship.
As they are accustomed, the Portuguese Grand Prix was a tough and demanding race for both the mechanicals and the riders, who had to deal with four laps to ride each day under the scorching sun and high spring-time temperatures in this third round of the championship, held in the Portuguese town of Gouveia.
Jonathan Manzi was one of the highlights of the team riders. The Italian rider, in his second round of the championship on the Gas Gas EC250F managed to score sixth and seventh place finishes in Portugal after fighting at all times for a top-five place in E1.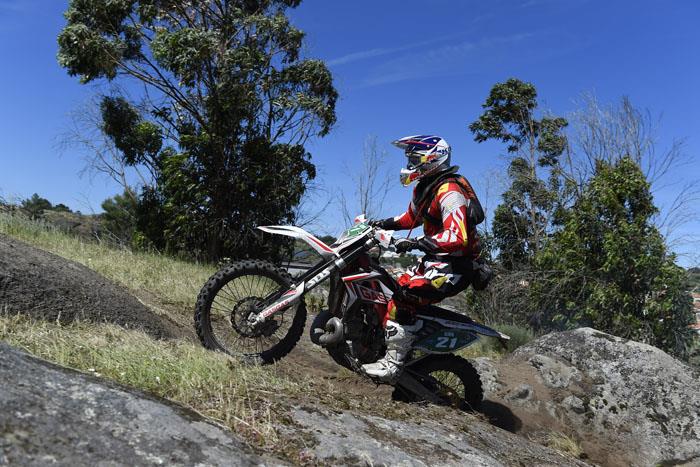 In E3, a hard crash for Jonathan Barragán ended the aspirations of the Madrid rider in this third round of the World Championship. After his good performances in the latter days of the GP races in Chile and Spain, this crash in Portugal resulted in a hard impact to the ribs, resulting in Barragán being forced to retire from the race. And after his crash, the rider traveled to Madrid where he will undergo medical tests to rule out any fractures. The first medical report indicated a muscle tear in the area.  
His teammate, Antoine Basset stood alone defending the colors of the team in the top class. The Frenchman, unaccustomed to such dry and broken terrain as seen in Portugal, accomplished a seventh and ninth place in E3.
For his part, in the Junior category, Diogo Ventura suffered from some pressure racing at home. A bit nervous, the young Portuguese rider made too many mistakes on Saturday, where he finished seventh. A day later, the Gas Gas rider favorably overcame the pressure to finish fifth and added a precious 20 points which put him in fourth place in the overall standings of EJ.
His teammate with the brand, Tommy Sjöström added a ninth and tenth place in Portugal, the second race of the year for the young Swede. While Sergi Casany earned an eighth and seventh position in his second participation in the Youth class in the World Championship after his debut in Jerez.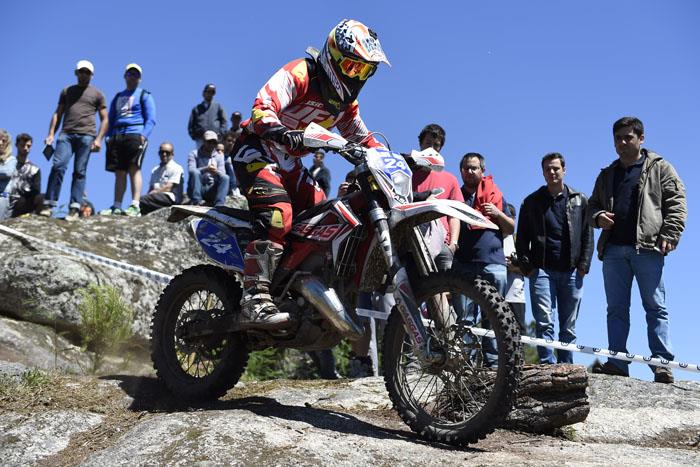 Sergi Durán (team manager): "As usual, the GP of Portugal has been an ordeal, a very hard test. This edition has been dusty, with four laps to complete every day, the specials were very rough and the truth is that both riders and mechanics have been pushed to the limit. They have suffered a lot.
This was the second test for Jonathan Manzi in the World Championship. - Having not been to Chile, - in Jerez last week, he began with the handicap of starting last in his class and had to overtake a lot of slower riders. And here in Portugal he has been fighting for a 'top five' finish and it has been very close. We are happy. We had not tested this bike 100% this season and the truth is that we have shown that we have a competitive bike and can fight with the leaders. 
It has cost Antoine Basset as he tried to adapt to this dry terrain, as he is accustomed to enduros with more France-like slippery surfaces, and here under the broken terrain he had trouble keeping up in his times. In the extreme he has achieved very good times, but the rest of the specials have determined the outcome of his race. Yesterday we were unlucky to lose Jonathan Barragán to injury. He fell in the first stage of the cross test. A nasty fall. In one jump he fell sideways on rocks and he suffered a muscle injury. We hope he can recover quickly for the next National round, although it will be a little while for him. Sunday he could not ride and now he is trying to recover and get better.
Diogo Ventura on Saturday had the extra pressure of racing at home. There were many fans encouraging him and so it took a while for him to stay focused. He made several mistakes and also in the special he has broken some things, they were harsh. Saturday did not go well and on Sunday things improved, with him chasing the top three group, fighting for fourth place and was finally fifth, adding some very precious points for the World Championship. 
In 125, Sergi Casany has done everything he could. This is only his second World Championship race and he is gaining experience in a category in which this year, there are fewer riders and they are very competitive, so it is a complicated category. Tommy Sjöström is also increasing his pace and finished in the top ten in junior in a tough test for him because he is not used to this heat. He has suffered a lot, but overall is satisfied."
Classifications for categories: E1, E2, E3, EJ and EY
Overall classifications for categories
Photos available in high resolution for editorial, not commercial use at this link. Author: Dario Agrati
English translation services, Jim Snell USA
Los datos que figuran en esta comunicación forman parte de nuestra base de datos y se utilizaran para gestionar el servicio solicitado y/o ofrecer información sobre actividades y servicios de GAS GAS MOTOS, S.A. Si desea hacer uso del derecho de acceso, rectificación o cancelación de sus datos, dirija un escrito a  GAS GAS MOTOS, S.A., C/ Unicef, nº 17 Polígono industrial Torremirona 17190 Salt - GIRONA, o bien contacte con Gas Gas a través del correo electrónico: info@gasgasmotos.es. Si desea darse de baja del Boletín, envíe un correo a info@gasgasmotos.es indicando BAJA NEWSLETTER en el título del mensaje.
Return to the previous page